Asos profits plunge in 'disappointing' year
[ad_1]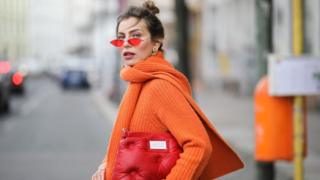 Profits at Asos have plunged after warehouse problems led to what the online fashion retailer said was a "disappointing" year.
Over the last year, Asos has installed more robots in its European warehouses and expanded its facilities in the US.
But the speed of growth hit profits, which dropped almost 70% falling to £33.1m for the year.
"With the benefit of hindsight, we were not adequately prepared for the additional complexities," Asos said.
The company said it "lost focus" on key areas like "product, presentation and customer engagement".
"The transformation has been huge and we underestimated the impacts of large scale operational change being executed on two continents simultaneously," it said in a statement.
Despite the drop in profits, sales rose 13% in the year to the end of August. Animal print, broderie and satin styles had been particularly popular, the firm said.
Asos shares rise
Asos has enjoyed rapid growth in recent years as it has benefited from the shift towards shopping online.
However, last December it surprised investors with a shock profit warning.
In July, the online retailer said it expected full year profits to be between £30m and £35m, well below the £55m forecast by analysts at the time.
The firm's stock price has more than halved over the past year.
Tom Stevenson, investment director at Fidelity Personal Investing, called Wednesday's drop in profits "inevitable" as he said the firm was "caught in the vice of competitive price cuts and rising costs".
"Chief executive Nick Beighton candidly admits that Asos underestimated the cost and complexity of becoming an international player," he said.
"But the halcyon days when Asos had the online fashion marketplace to itself are in the past. It will be a hard slog getting profits back to last year's £100m."
However, investors welcomed Wednesday's announcement sending the company's share price up by as much as 17% in early trading.
"Investors will be hoping that these numbers represent a line in the sand," analyst Richard Hunter from Interactive Investor said.
But, he said: "Without question, Asos has much to do to regain its former status as a market darling."
[ad_2]