Brexit: Boris Johnson says 'no need' for UK to follow EU rules on trade
[ad_1]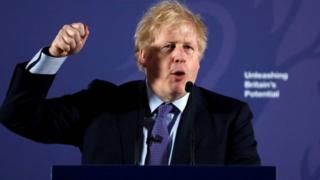 Boris Johnson has set out his vision for a trade deal with the EU, saying there is "no need" for the UK to follow Brussels' rules.
The PM called for a Canada-style free trade deal, saying the UK would return to the Withdrawal Agreement if such a deal was not reached.
But the EU's Michel Barnier said its "ambitious" trade deal offer required a "level playing field".
Mr Barnier also said there should be reciprocal access to fishing waters.
Under the EU-Canada deal, import tariffs on most goods have been eliminated between the two countries, though there are still customs and VAT checks.
The flow of services, such as banking – which is much more important for the UK – between Canada and the EU are much more restricted.
Mr Johnson used his speech on "unleashing Britain's potential" to raise the prospect of the UK reverting to World Trade Organisation (WTO) terms if EU chiefs refuse to sign off on a Canada-style free trade agreement.
In his speech in Greenwich, London, the PM said: "We have often been told that we must choose between full access to the EU market, along with accepting its rules and courts on the Norway model, or an ambitious free trade agreement, which opens up markets and avoids the full panoply of EU regulation, on the example of Canada.
"We have made our choice – we want a free trade agreement, similar to Canada's but in the very unlikely event that we do not succeed, then our trade will have to be based on our existing Withdrawal Agreement with the EU.
"The choice is emphatically not 'deal or no deal'. The question is whether we agree a trading relationship with the EU comparable to Canada's – or more like Australia's.
"In either case, I have no doubt that Britain will prosper mightily."
Why does a UK-EU trade deal matter?
Britain 'will not be aligning with EU rules' – Raab
He rejected the requirement for the UK to adopt Brussels-made rules "on competition policy, subsidies, social protection, the environment, or anything similar, any more than the EU should be obliged to accept UK rules".
The PM added that he will seek "a pragmatic agreement on security, protecting our citizens without trespassing on the autonomy of our respective legal systems".
He said the UK was ready to agree a deal on fishing with the EU and suggested that there would be annual negotiations on this.
When asked by the BBC's Laura Kuenssberg whether he accepted that leaving the EU with no comprehensive trade deal could have significant cost for jobs and businesses, Mr Johnson replied: "We've got a deal, it's a great deal, we're out."
"When I hear prophecies of doom I've heard them before, I don't believe in them," he added.
On the absence of the word "Brexit" in his speech, Mr Johnson said it was not a banned words but that "it's over, it's happened".
"It's receding behind us in history and that's the approach we should take to it," he said.
'Level playing field'
In a speech in Brussels, Mr Barnier, the EU's chief negotiator, offered a contrasting vision to Mr Johnson's.
He said the EU was ready to offer a "highly ambitious trade deal as the central pillar of this partnership", which included zero tariffs and zero quotas.
But, he said, this was dependent on the UK agreeing to "specific and effective guarantees to ensure a level playing field" to ensure competition "is and remains open and fair".
There would also need to be an agreement on fisheries that will allow "continued reciprocal access", he said.
Mr Barnier said all goods coming into the EU will need to comply with its rules on health or other standards and as a result, goods entering the union "will be subject to regulatory checks".
"Businesses must adapt now for this new reality," he said.
The more standards the UK and EU had in common, the better the access the EU will be able to offer to its market.
"Will the UK continue to adhere to Europe's societal and regulatory model in the future or will it seek to diverge?" he said.
"The UK's answer to this question will be fundamental."
The European Commission has published its draft negotiating mandate with three components: general arrangements, economic arrangements and security arrangements.
President of the European Commission Ursula von der Leyen has said negotiations would be "hard and fair and fast" but that the closer the UK wanted to be to the bloc, the more of its common rules it would have to abide by.
What is a Canada-style agreement?
In 2016 the EU signed a trade agreement with Canada – and this deal could be a template for the UK's future relationship with the EU.
The Canada deal gets rid of tariffs (taxes) on the majority of goods traded between the countries – some "sensitive" food items, including eggs and chicken, are not covered by it.
The EU/ Canada agreement means public contracts are opened up to each other's contractors – so, Canadian companies can, for example, pitch to build French railways.
It also means Canadian products going to the EU have to comply with EU standards (for example on food and product safety) and vice versa.
Services – a sector which makes up about 80% of the UK economy – are only partially covered by the deal.
Importantly for the UK, this type of agreement does not cover financial services meaning UK-based banks would not be able to serve clients in the EU without licences from individual countries.
'Scorched earth policy'
Critics hit out at Mr Johnson's suggestion of a deal with the EU "like Australia's" with acting Liberal Democrat leader Sir Ed Davey calling it "no deal in all but name".
Sir Ed added: "Deliberately hollowing out our trade is nothing short of a scorched earth policy for our economy."
In addition to a deal with the EU, the government also wants to make progress in striking free-trade agreements with countries such as the United States, Japan, Australia and New Zealand.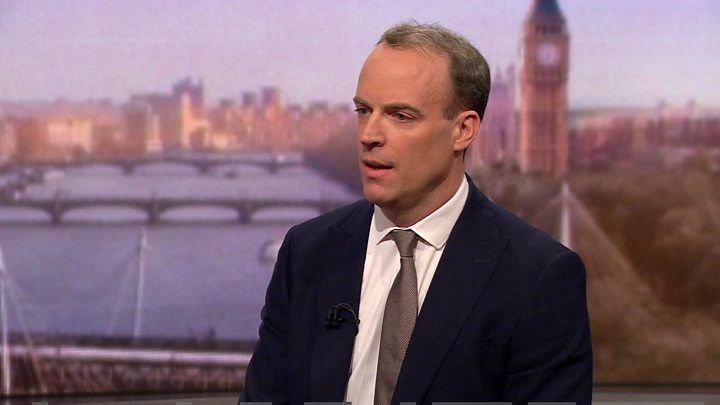 Trade talks between Britain and the EU are due to begin in March and the bloc's own approach to the negotiations needs to be agreed by all 27 member states.
While the UK officially left the EU at 23:00 GMT on Friday, it will remain wedded to EU rules during a transition period which ends in December this year – the PM has said it will not be extended.
[ad_2]