British Gas owner Centrica hit by energy price cap
[ad_1]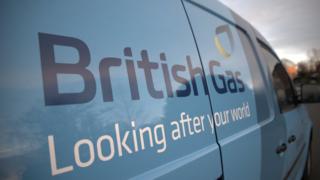 British Gas owner Centrica has blamed a big loss in 2019 on the energy price cap and falling gas prices.
Centrica made a loss of £849m in the year ended 31 December compared with a £987m profit the year before.
That sent the share price tumbling by 15% in early trading on Thursday.
Chief executive Iain Conn said the business had faced a "challenging environment, most significantly the implementation of the UK default tariff cap and falling natural gas prices".
The price cap on electricity and gas bills came into effect in January 2019 and was a flagship policy of former Prime Minister Theresa May to end what she called "rip-off" prices.
Last week, energy regulator Ofgem told suppliers to cut average standard bills and pre-pay bills by 1.4% from 1 April as wholesale prices had fallen between August 2019 and January 2020.
Centrica, which has a 20% stake in Britain's nuclear power stations, added that outages at two nuclear plants last year had also hit earnings.
Customers have been dropping away from the six biggest suppliers on the UK energy market, and experts hailed 2019 as the year that the group's stranglehold on the market was finally broken for good.
Centrica's rival SSE was bought by one of the smaller challengers, Ovo Energy, which only entered the market a decade ago. Ovo and other challengers spent the second half of the last decade stealing customers away from the bigger rivals, cutting Centrica's market share from 24% when Mr Conn took over, to 19% towards the end of last year, according to figures from Ofgem.
"British Gas is really struggling with the onslaught from small suppliers, the price cap, and falling natural gas prices hitting them hard," said Mark Todd, the co-founder of Energyhelpline.
[ad_2]