Coronavirus: Singapore bank evacuated after worker falls ill
[ad_1]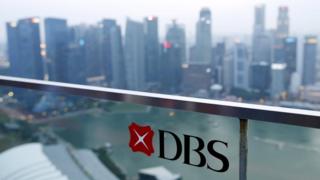 Around 300 employees have been evacuated from Singapore's biggest bank, DBS, after one person fell ill with the new coronavirus.
All 300 had been working on the same floor, the 43rd, and were sent home on Wednesday.
"As a precautionary measure, all employees on the affected floor vacated the premises to work from home," DBS said in a statement.
Singapore had previously reported 47 cases of the new virus.
The employee was tested on Tuesday and his infection was confirmed on Wednesday.
DBS said "during this difficult time, the bank will be providing this employee and his family with every support and guidance".
Contact tracing is being done to verify who had been exposed to the affected employee. The common areas of the building such as lifts and toilets are being deep cleaned and disinfected.
Care packs with thermometers, masks and hand sanitisers were given to the evacuated employees and the bank said a medical helpline was in place.
Singapore raised its "Disease Outbreak Response System Condition" to orange last week – which means the disease is severe and spreads easily from person to person.
As a consequence, all companies and many public spaces have started scanning employees and visitors for temperature.
The Covid-19 has killed more than 1,100 people in China, where it emerged.
On Wednesday though, the country reported its lowest number of new cases in almost two weeks, with 2,015 new confirmed cases on Tuesday.
The overall number of infections now stands at more than 44,000 on mainland China, and the virus has spread to more than 20 countries around the world.
In Japan, the number of infections on a cruise ship quarantined off Yokohama has risen by 39.
With 174 confirmed cases, the Diamond Princess is the largest single cluster of the virus outside China.
From a total of more than 3,700 passengers and crew on board, almost 500 have been tested so far, but there are plans to step up testing in the next days.
While those infected are brought on land and taken into medical care, the remaining passengers have to stay in quarantine on the ship.
Read more about the coronavirus and its impact
SHOULD WE WORRY? Our health correspondent explains
YOUR QUESTIONS: Can you get it more than once?
WHAT YOU CAN DO: Do masks really help?
UNDERSTANDING THE SPREAD: A visual guide to the outbreak
LIFE UNDER LOCKDOWN: A Wuhan diary
ECONOMIC IMPACT: Why much of 'the world's factory' remains closed
[ad_2]