Daily Mail owner buys i newspaper for £50m
[ad_1]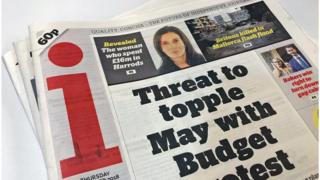 The owner of the Daily Mail, DGMT, has bought the i newspaper and website for £49.6m from JPI Media.
DMGT chairman Lord Rothermere said the paper was "a highly respected publication with a loyal and engaged readership".
"We are committed to preserving its distinctive, high quality and politically independent editorial style."
The Competition and Markets Authority will have to approve the deal.
In 2018, the i reported an operating profit of £11m from £34m in sales.
[ad_2]