Four-day work week unrealistic, says Labour-commissioned report
[ad_1]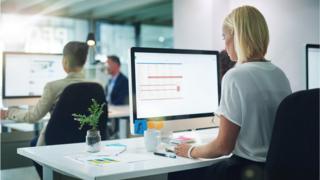 People should work fewer hours to earn a living, but capping their hours would be unrealistic, a report commissioned by the Labour Party has claimed.
The report, by cross-bench peer Robert Skidelsky, said working less without loss of pay was "good for material and spiritual well-being".
But it said imposing a four-day week – a policy Labour is considering – would not be "realistic or even desirable".
Labour shadow chancellor John McDonnell said he would study the findings.
According to the report, working hours in the UK are much lower than during the Industrial Revolution, when people could work up to 16 hours a day.
Corbyn promises 'biggest' boost to workers' rights
McDonnell: Universal credit has to go
But it said the trend towards shorter hours had stalled since the 1980s as productivity gains had slowed and union power had been eroded.
The UK now works longer hours than any other European country bar Greece – with the average full-time employee clocking up 42.5 hours a week versus an EU average of 41.2 hours.
"Even though some people are compelled to work shorter hours than they want to, most people are compelled to work longer hours than they want to," the report said.
Mr McDonnell commissioned Lord Skidelsky – an economic historian who has been a member of both the Labour and Conservative parties – in 2018 to look at the feasibility of legislation to limit hours of work.
But Lord Skidelsky said any such policy would fail, citing France's introduction of a 35-hour work week in 1998.
'Exceptions and loopholes'
"Any cap needs to be adapted to the needs of different sectors," the report said.
"The evidence is that, after a brief impact effect, France's legislation was rendered broadly ineffective by an accumulation of exceptions and loopholes."
Instead, the report urged the government to drive change in other ways.
It said working hours in the public sector could be reduced – without cutting pay – in order to change the "norms of work" across the whole economy.
And it said the state could bring about full employment by acting as "employer of last resort" with a job guarantee programme. Among other things this would "weaken employers' control over the employment contract", and reduce fears about automation – a key to allowing people to work less.
Mr McDonnell said: "Something is very wrong with how the world of work has changed in recent years.
"Millions are working long hours, while others don't get the regular hours they need.
"I'd like to thank Lord Skidelsky for his meticulously researched report which we will study and draw on when looking at how we can reduce the typical working week without loss of pay."
[ad_2]