Ghosn: Decision to flee was hardest of my life
[ad_1]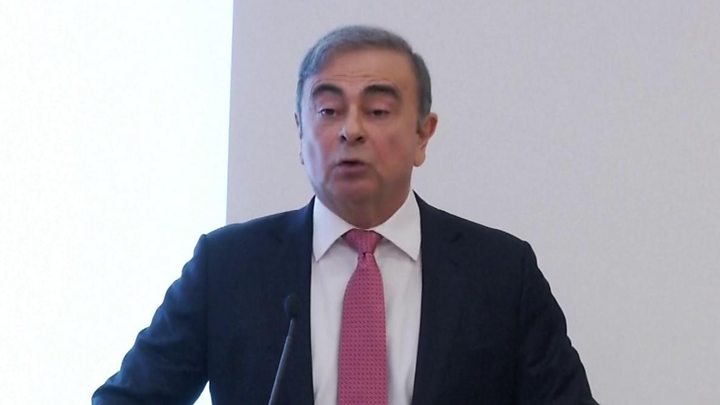 The fugitive ex-Nissan boss Carlos Ghosn has said the decision to flee Japan, where he was charged with financial misconduct, was the most difficult of his life.
Speaking at a highly anticipated news conference, Mr Ghosn said his treatment went against international standards of justice.
He claimed he was left with no other choice but to flee to protect himself and his family.
He described his treatment as "brutal".
In prison, Mr Ghosn said he was kept in a cell with a small window and only allowed to shower twice a week. He also spent 130 days in a windowless cell while in solitary confinement, the former executive said said.
He described his "feeling of hopelessness" as "profound".
"I was brutally taken from my work as I knew it, ripped from my work, my family and my friends."
'It will get worse'
He added: "It is impossible to express the depth of that deprivation and my profound appreciation to be able to be reunited with my family and loved ones."
"'It will get worse for you if you don't just confess,' the prosecutor told me repeatedly," he said at the news conference.
Despite speculation, he did not give details of his escape in his prepared remarks.
Mr Ghosn's lawyers told him it would be five years before he could expect a judgement, he said.
As a result, he said it was not hard to come to the decision that he would either have to "die in Japan or get out".
He described himself as a "hostage" of a country that he had served for 17 years as the boss of Nissan.
Prosecutors allege that Mr Ghosn made a multi-million-dollar payment to a Nissan distributor in Oman. Nissan, meanwhile, has filed its own criminal complaint against Mr Ghosn, accusing him of diverting money from the company for his own personal enrichment.
He is also accused of under-reporting his own salary.
But Mr Ghosn insists that he is innocent of all charges made against him.
Instead, he says he is the victim of a plot to oust him over concerns about Renault's growing influence over Nissan under his tenure.
On Tuesday, Japanese authorities issued a warrant for the arrest of Mr Ghosn's wife Carole, who was accused of giving false testimony.
The executive described it as "a coincidence" that the warrant was issued the day before the news conference on Wednesday, nine months after the alleged offence was committed.
It is the first time Mr Ghosn has spoken publicly since he fled house arrest in Japan in a daring escape that reportedly involved him being smuggled out of the country in a flight case.
The executive ran car giant Nissan until he was arrested in Japan on charges of financial misconduct – which he denies – in November 2018.
He was subsequently released on bail and put under house arrest, but he was banned from seeing his wife.
Then, in the final days of 2019, he skipped bail to board a private jet that took him to Turkey before he travelled on to Lebanon, where he is a citizen, and where his wife was waiting.
Mr Ghosn has previously insisted that he had organised his escape "alone" and denied reports his wife had helped.
The Japanese government has described Mr Ghosn's escape as "unjustifiable", while his former employer, Nissan, said it was "extremely regrettable".
[ad_2]