Harland and Wolff: Belfast shipyard bought by UK firm
[ad_1]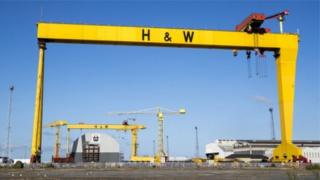 Belfast's Harland and Wolff shipyard has been sold, saving it from closure.
The yard, best known for building the Titanic, has been bought for a total of £6m by InfraStrata, a London-based energy firm.
Harland and Wolff went into administration in August following the collapse of its Norwegian parent company.
That move put about 120 jobs at risk. InfraStrata says it will retain the 79 workers who are still employed.
It hopes to increase the workforce by "several hundred" over five years.
The trade union, Unite, says it expects people to return to work as early as this week.
InfraStrata will initially focus on metal fabrication for its energy projects.
The company's main project is a gas storage project at Islandmagee where it hopes to begin construction enabling works before the end of the year.
It is also planning a separate, floating gas storage facility.
InfraStrata chief executive John Wood said: "Harland and Wolff is a landmark asset and its reputation as one of the finest multi-purpose fabrication facilities in Europe is testament to its highly skilled team in Belfast."
The news follows a nine-week occupation of the shipyard by workers, supported by their unions.
Unite regional officer Susan Fitzgerald said the workers had "defied the cynics".
"As well as safeguarding their own futures, the workers have sent a message that will be heard across Northern Ireland, most immediately by Wrightbus workers in Ballymena," she said.
Northern Ireland Secretary Julian Smith said he was "delighted" by the news and the fact that the skills and experience of the existing workforce would be retained.
"I firmly believe that the shipyard has a promising future and InfraStrata's plans present an exciting opportunity for both Belfast and Northern Ireland's manufacturing and energy sectors," he said.
[ad_2]