Melton Mowbray pork pie makers and No 10 clash over Johnson claim
[ad_1]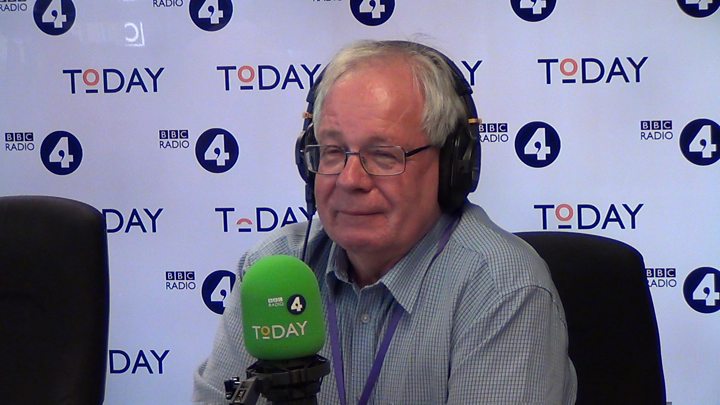 The humble Melton Mowbray pork pie is at the centre of an unlikely political dispute about British exports.
Boris Johnson had said pork pies are exported to Thailand and Iceland, but cannot be to the US due to red tape.
However the Melton Mowbray Pork Pie Association said the pies were not even exported to Thailand and Iceland.
Downing Street insisted pies were exported, citing producer Walker & Sons – but the company said this was not correct.
It told the BBC it had previously exported a "tiny amount" of pork pies to Singapore, but had not done so for "at least two years" and is now "entirely focused on the UK market".
When asked if the company had ever exported to any other countries, the spokeswoman said she was unsure.
What did the PM say and why did he say it?
The topic of pork pies arose on Sunday at the G7 summit in Biarritz, France, when Mr Johnson was discussing a possible post-Brexit free trade deal with the US.
Mr Johnson spoke about trying to "prise open the American market" by removing restrictions on UK exports.
Offering an example of an American trade restriction, Mr Johnson said: "Melton Mowbray pork pies, which are sold in Thailand and in Iceland, are currently unable to enter the US market because of, I don't know, some sort of food and drug administration restriction."
What was the response?
Matthew O'Callaghan – who chairs the Melton Mowbray Pork Pie Association, which represents the pies' makers – told BBC Radio 4's Today programme that, as far as he knew, the claim was wrong.
Asked if Mr Johnson was right, Mr O'Callaghan replied: "Not really. With all of these things there is a little bit of give and take. We don't actually export to Thailand or Iceland."
When pressed again, Mr O'Callaghan said: "Not that I know of I'm afraid.
"It is certainly available in Iceland the shop."
Mr O'Callaghan said there was a possibility that pies could be exported frozen to the US or Australia and cooked in the country.
Downing Street's rebuttal
In response to Mr O'Callaghan, No 10 said the PM was correct when he said that Melton Mowbray pork pies are exported to Thailand and Iceland.
His remarks, it added, were based on a briefing note from the Department for International Trade, which said the company Walker & Sons exports small shipments to Iceland, Thailand, Singapore and the Caribbean.
What does Walker & Sons say?
However, when contacted by the BBC, Walker & Sons said it no longer exports pork pies.
"We are entirely focused on the UK market," a spokeswoman said.
The company said it used to export a "tiny amount" to Singapore – but had not done so "for some time".
When pressed, a spokeswoman said none had been exported for "at least two years".
She said those that were exported had to be sent out frozen and then baked on arrival.  
Melton Mowbray pork pies are distinctive as they are made from uncured pork, to ensure the inside is grey in colour.
The Melton Mowbray pork pie has special protected geographical status under EU rules, meaning that only producers making pork pies using the traditional recipe and in the vicinity of Melton Mowbray can use the town's name.
After Mr Johnson's pork pie remarks, Rutland and Melton MP Sir Alan Duncan posted a series of tweets expressing support for the opportunity to export the famous food to the US.
During the Tory leadership contest earlier this year, Mr Johnson waved an Isle of Man kipper at the final hustings and claimed EU regulations require kipper suppliers to keep their products cool with ice pillows when they are delivered.
However, the EU rule covers fresh fish and not smoked products, such as kippers, and it is for national governments to set any rules.
[ad_2]