Royal Shakespeare Company ends BP partnership after student protest
[ad_1]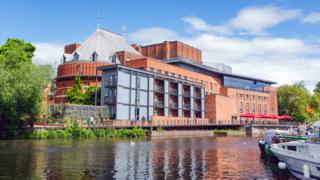 The Royal Shakespeare Company is to end its partnership with BP at the end of the year following criticism of its links to the international oil giant.
The RSC said it "could not ignore" the "strength of feeling" against the deal.
Last week, school students threatened to boycott the theatre company if it did not sever links with the firm.
"Young people are now saying clearly to us that the BP sponsorship is putting a barrier between them and their wish to engage with the RSC," it said.
BP has subsidised the Stratford-upon-Avon-based theatre company's £5 ticket scheme for 16 to 25-year-olds.
BP 'disappointed and dismayed'
Gregory Doran and Catherine Mallyon, the theatre company's artistic and executive directors, said the "difficult" decision had not been taken "lightly or swiftly".
"We would like to thank BP for their generous support of the RSC since 2011," they said.
In a statement, BP said it was "disappointed and dismayed" its partnership had been brought to a "premature" end.
"Over the past eight years our sponsorship has enabled 80,000 young people to see RSC performances at reduced rates," it continued.
The company said it shared "many of the concerns that apparently contributed to the decision" and was committed to making energy "cleaner and better".
"The increasing polarisation of debate, and attempts to exclude companies committed to making real progress, is exactly what is not needed," it continued.
Last week, a group of students said they would boycott RSC productions if it continued to accept funding from a company they accused of "actively destroying our futures".
"BP's influence is nothing but a stain on the RSC," they wrote in a letter.
Earlier this year, Sir Mark Rylance, a long-standing critic of the sponsorship agreement, resigned from his post as an RSC associate artist.
In his resignation letter, the Oscar-winning actor said he did not "wish to be associated with BP any more than I would with an arms dealer [or] tobacco salesman".
Greenpeace UK said it was "time other oil-sponsored institutions took note".
Morten Thaysen, climate campaigner at Greenpeace, said: "Grassroots campaigns like BP Or Not BP and the youth strikers deserve this win… It's hard not to think the walls are closing in on BP."
BP spends £7.5 million per year on arts and culture sponsorship, which includes deals with the British Museum, the Royal Opera House and the National Portrait Gallery.
It cut its sponsorship of the Tate art galleries in 2016, but said the decision was not a result of protests by climate activists.
Follow us on Facebook, or on Twitter @BBCNewsEnts. If you have a story suggestion email entertainment.news@bbc.co.uk.


[ad_2]