Triumph Furniture of Merthyr Tydfil folds with 252 job losses
[ad_1]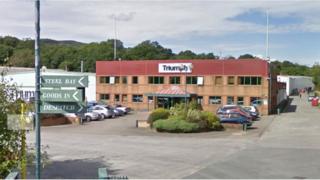 A furniture company has gone bust with 252 job losses after reporting "a catastrophic collapse in orders".
Triumph Furniture of Merthyr Tydfil, which has bases in the town and Dowlais, supplied more than 600 furniture sellers, as well as being a major supplier of central government.
The firm went into administration on Tuesday, after an "unprecedented fall in sales" over the last 10 weeks.
Administrators said 239 jobs will go immediately.
The remaining 13 will be kept on in the short-term to help administrators.
It was established in 1946 as a family-run business, with chief executive Andrew Jackson describing its demise as fast.
He said: "The family is devastated by this appalling outcome and are extremely concerned for the welfare of all Triumph employees and their families at this terrible time.
"The business has suffered a rapid and catastrophic collapse in orders since the middle of July, which has been impossible to recover from, despite every effort."
He said Triumph had enjoyed "incredible loyalty and support" from the people of Merthyr Tydfil and the surrounding valleys, which has been a "key element" in its success and longevity.
"All connected with the business over these years should be very proud of what has been achieved," he added.
A contractor said staff thought the writing was on the wall but were not expecting the company to fold this side of Christmas.
"A driver told me that over the last few months the work has been going down and down," he said.
"He had driven just two chairs to Aberdeen. When you're doing that, you know the business is in trouble "
Staff were gathered in the loading bay at the main Abercanaid site at about 12:00 on Tuesday – the only area big enough to accommodate them all in the dry.
"It was heartbreaking to see them walking back up slowly having been told they had lost their jobs," the contractor added.
"Most of the staff left immediately.
"I've been told there are just three staff remaining in the loading bay area to remove the rest of the stock and show auctioneers around."
Administrator Huw Powell, of Begbies Traynor, said attempts were made to secure major customer backing and additional funding to support a restructure or sale of the business.
But he added: "Due to the speed at which order levels reduced, these efforts ultimately proved unsuccessful before funding ran out."
Administrators are now working with staff to help them access support.
Mr Powell said: "It is especially sad to see such a prominent business fail when there are so many redundancies involved.
"We know this will be devastating news for those concerned."
'Tailored support'
A Department for Work and Pensions spokesman reassured staff that the Jobcentre Plus Rapid Response Service will be working alongside the Welsh Government, Careers Wales and local employers to provide "tailored support".
South Wales East Conservative AM Mohammad Asghar said: "It is now essential that the Welsh and UK governments step in quickly to help those affected today and that their skills and talents are not lost but can be redirected to continue to contribute to the growing Welsh economy in south Wales."
The company previously ran into trouble in 2011, entering administration before it was bought by the firm's management team.
At the time, Mr Jackson said Triumph Furniture needed to "make sure we have the right product range at the right price for today's business; and the opportunity to do what we've always done well: offer the trade new ideas which can bolster the work of all our dealers in difficult times".
---
Analysis from Brian Meechan, BBC Wales business correspondent
Triumph's last accounts are filed up to June 2018. They show a loss of £343,000 for the year compared to a profit of £66,000 for the previous year.
The company blames the financial situation on delays in new government contracts affecting sales and profits, lost public sector sales worth £401,000 in profit and a 2% increase in overheads.
The accounts also pointed to continuing uncertainty over Brexit however they said that orders and profitability meant the company remained in a strong position.
The accounts also warned that the drop in the value of the pound increased the costs of raw materials and that wages had risen.
Currently the company has five outstanding charges-effectively mortgages- most of them with Lloyds Bank.
[ad_2]