UK's banknote printer De La Rue fears for its future
[ad_1]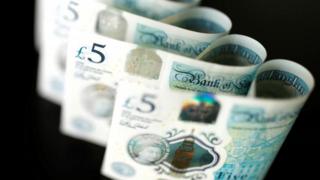 De La Rue, the company that prints the UK's banknotes, has said there is a risk that the firm will collapse if its turnaround plan fails to work.
The announcement came as it suspended its dividend and reported a loss in the first half of its financial year.
De La Rue said its warning was based on a worst-case scenario.
However, it concluded that there was "a material uncertainty that casts significant doubt on the group's ability to operate as a going concern".
De La Rue has faced some big setbacks in the past two years, including the loss of the post-Brexit UK passport printing contract in March 2018.
In May last year, it had to write off £18m after Venezuela's central bank failed to pay its bills.
De La Rue's half-year adjusted operating profit fell to £2.2m, from £17m during the same period a year ago.
[ad_2]