Wrightbus: Jeff Wright unable to reach deal to sell Ballymena firm
[ad_1]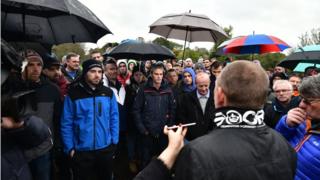 The owner of the Wrightbus factory has said he has not been able to reach a deal to sell it to a new owner.
However, the union representing Wrightbus workers said a deal could still be possible.
"It is not dead in the water, it's hanging by a thread," Unite official George Brash said.
In a statement Jeff Wright said the sticking point was farmland which he does not consider to be part of the factory site.
He said failure to complete a deal is "deeply regrettable, especially after the exhaustive efforts all of us involved have gone to in providing every possible support".
The Ballymena business was placed into administration and put up for sale in September.
The Wrightbus premises are owned separately from the manufacturing business and held in a company called Whirlwind Property Two, which is not part of the Wrights group and is therefore not under the control of the administrator.
The property company is controlled by Jeff Wright, the former owner of Wrightbus.
English industrialist Jo Bamford wants to buy the Wrightbus business and the factory through his Ryse Hydrogen company.
Mr Wright said that he hopes the firm's administrator, Deloitte, "have not been side-tracked by the Bamford engagement and can now put their energies into delivering a deal by working with the remaining bidders to secure the future of Wrightbus and the jobs in Ballymena".
On Thursday morning, DUP MP Ian Paisley told the BBC's Good Morning Ulster programme that: "Today is decision day."
"If the answer is that we cannot get the deal consummated, in terms of the land sale deal, then I'm afraid the worst of all situations prevails and we're left with liquidation of assets of the company," he said.
"It's either the continuation of building the best buses produced in the world or it's the end of bus building in Ballymena."
Paisley role "unhelpful"
The North Antrim MP said Mr Bamford told him on Tuesday that jobs would be created within two weeks, if a deal is made.
"The Wright family have made a mammoth contribution to Northern Ireland over three generations and this maintains that rich history," said Mr Paisley.
"Everyone needs to put their shoulder to the line and get this deal over the line."
Mr Wright said Mr Paisley's role as North Antrim MP had been "unhelpful to say the least" and advised that he left "the business of deal making to the professionals at Deloitte".


[ad_2]