Wrightbus: Large number of redundancies to be confirmed
[ad_1]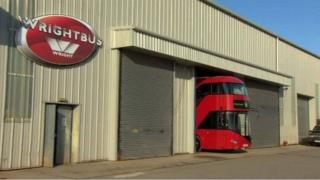 A large number of employees will be made redundant at Wrightbus later when the firm is placed into administration.
The company is suffering from cash flow problems and has been seeking investment or a new owner.
The firm, which is the last UK-owned bus manufacturer, is best known for building the New Routemaster, known as the 'Boris Bus'.
Talks with two potential buyers failed to reach a conclusion last week. The company is not commenting.
Wrightbus managers are due to brief unions later on Wednesday morning with administration at the Ballymena firm expected to be confirmed.
DUP MP Ian Paisley has said the administration of the bus manufacturer is now an "inevitability".
"Essentially from this point the administrator has a week to find a buyer," Mr Paisley said.
Mr Paisley said employees would be told what the process would mean for them when unions are briefed, and that he is due to meet the prime minister and secretary of state on Wednesday.
He told Good Morning Ulster that the news was "a real tragedy" for the company's 1,400 employees and "a further 1,700 people affected up and down the supply chain".
At the factory gates: 'I have nothing now'
by Richard Morgan, BBC News NI business reporter
Staff have been arriving in a steady stream at the Wrightbus facility in Ballymena this morning.
The car park at the site is almost full.
Norman Stephens has worked at Wrightbus for 30 years and said he is gutted.
"For the last five years, management has told us that they can't give us a wage rise as they were investing it in the company.
"Who is going to employ a 62-year-old man? I have nothing now. That's it.
"I'm off shift and due back in tomorrow night but I've been in since 8 o'clock hoping to find out if I've got a job."
"The administrator will need to find someone of calibre and of real standing who has the wherewithal and the skill to take this company on," he said.
Latest accounts show that the Wrightbus group lost £1.7m on a turnover of £227m in 2017.
But its financial situation has deteriorated since then.
It made two rounds of redundancies last year with 95 jobs going in February and June, which it said reflected continued low levels of demand for new buses in the UK market.
The UK has traditionally been Wrightbus's biggest market but it has been contracting for over two years.
Figures from the Society of Motor Manufacturers and Traders (SMMT) show that in the second quarter of this year new bus and coach registrations are down 30% compared to the same period last year.
That marks the tenth quarter in a row that new registrations have declined.
Wrightbus: From driving seat to financial failure
In 2012, Wrightbus was riding high. The company launched a new red double decker bus for London.
A fleet of the New Routemasters had been ordered by the then mayor Boris Johnson – and so became known as Boris Buses.
It was a triumphant time for the Ballymena business, but now it's been brought low.
Read more on the firm's financial fall here.
Sinn Féin MLA Conor Murphy said it was a "matter of huge regret the firm has descended into this kind of financial uncertainty".
"I think it is a very worrying time and I feel very much for the workers," he said.
TUV leader Jim Allister said the impending administration was "devastating news not just for the employees of Wrightbus but the north Antrim community and supply chain".
In March 2016, Wrightbus founder William Wright became the first major business figure in Northern Ireland to voice his support for Brexit.
The businessman told the Ballymena Guardian newspaper: "I am totally in favour of getting out."
[ad_2]